Extensions
I am making this free Music Education extension available for your MuseScore installation. The extension adds new palettes and otherwise customizes your user interface for use in educational settings.
To use this extension, download the file below to your computer and use drag & drop from your file browser to MuseScore. It will install automatically. You may find this automatically switches you to one of the new workspaces, which you might not want, but you can switch workspaces at any time using the control at the far right of the main toolbar.
Workspaces
The Music Education extension includes two new workspaces that you can use as is or customize further.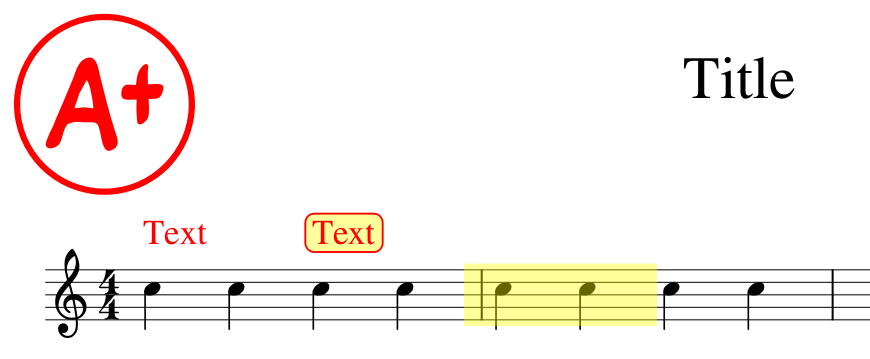 Music Education
The Music Education workspace is identical to the Advanced workspace that comes with MuseScore, except that it adds new palettes at the bottom of the palettes window.
Annotations
This palette contains text elements you can add to specific notes or rests in a score for comments in red (with or without yellow highlighting), a large red circled grade you can add to the title frame and then edit, and a yellow highlighter you can double-click to add to a selected range of your score. The highlighter will appear opaque blue when selected, so don't be alarmed, but once you move it into position and click elsewhere or press Esc to deselect it, it will be transparent yellow.
Kodály Hand Signs
This palette contains pictograms of the Kodály hand signs (do, re, mi, fa, sol, la, ti, do).
Function Theory
This palette contains advanced function theory symbols from the Brauvra font.
Young Musicians
The Young Musicians workspace contains the same annotations and Kodály palettes as the Music Education workspace, but it also adapts the user interface to be more "kid-friendly" by customizing the font and icons sizes used and simplifying the toolbars and palettes.
Templates
The Music Education extension includes several templates grouped under the Education heading:
Big Note - a large print sheet with note names enabled within the noteheads. To disable or customize the note names, right-click the staff, Staff Properties, Advanced Style Properties, select the desired Notehead scheme.
Flash Card - a half sheet of paper with a giant title and room for a single short measure. By default this has note names enabled; they can be disabled as described above.
SSA + Piano - template for a typical primary school choir.
Handout - suitable for teaching materials, it includes an Annotation text style and some other customizations.
Worksheet - suitable for homework assignments, tests, and so forth, it includes a space for the student and course name at top and makes a few other additional customizations.